Intercity 2: The double-decker
The Intercity 2 - The double-decker with double the comfort
The new double-decker Intercity 2 trains were added to the Intercity fleet in December 2015. With the Intercity 2, we will gradually expand the Intercity network throughout Germany over the next few years. We are creating around 190 new direct services from many regions to the 50 largest German cities. In future, almost every city with more than 100,000 inhabitants will be served by long-distance trains at least every two hours. This means that 5 million inhabitants will receive a new or significantly improved long-distance transport connection.
New connection: The fast way to the Baltic Sea
But tourist destinations will also be better connected with long-distance trains in the future. Since March 2020, for example, passengers have been able to experience the Intercity 2 on the new long-distance Dresden - Berlin - Rostock line. This connects the Saxon Switzerland region, the lakes of the Mecklenburgische Seenplatte and the Baltic Sea coast.
Comfort on two floors
The Intercity 2 offers two floors of amenities. These include generous seat legroom and the unique views from the upper deck. Passengers can relax and have snacks and drinks served directly at their seat. Or they can travel with the whole family comfortably and undisturbed in a specially designated toddler or family area, with plenty of space for our youngest passengers.
100 per cent green-powered travel
On top of all this, the new Intercity is a real energy saver. It consumes a fifth less power than its predecessor! Our second-generation Intercity is flying the flag for green mobility throughout Germany. And of course, like all long-distance trains in Germany, it runs on 100 per cent green electricity.
Intercity 2: Facts, figures and data
| | Class 146/147 | Class 4110 (4 unit) | Class 4010 (6 unit) |
| --- | --- | --- | --- |
| Start of operations | 2015 | 2020 | 2022 |
| Number of trains | 54 | 9 | 8 |
| Number of carriages | 4 intermediate cars, 1 driving trailer | 2 intermediate cars, 2 end cars | 4 intermediate cars, 2 end cars |
| Number of seats | 461 | 295 | 486 |
| Train length | 135 m | 100 m | 150 m |
| Train weight (empty) | 270 t | 218 t | 354 t |
| Maximum speed | 160 km/h | 200 km/h | 200 km/h |
| International operation | - | - | - |
Virtual tour of the Intercity 2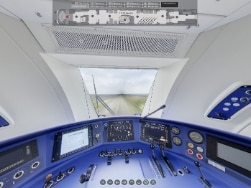 Intercity 2 picture gallery - trains with locomotive and wagons
Intercity 2 picture gallery - Stadler KISS multiple-unit train